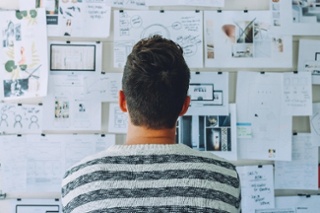 When we talk about process and communication issues, most leaders admit that they often resort to training as the first solution. And why not? With a solid training program, you can easily improve performance, address communication breakdowns, and disseminate process updates. So the benefits are many.
While we all know trainings are a must, creating as well as evaluating training materials for their effectiveness isn't easy. Numerous questions arise: Is it okay to use Power Point? How do I ensure that trainees apply the information they have learned? How do I prepare them for an actual customer interaction?
So how does one exactly go about evaluating training materials? The answer starts with knowing and applying best practices in instructional design and adult learning principles. To help you, I listed down the 4 essential things you need to know when evaluating training materials. Books have been written on these subjects, but this blog post should give you a good place to start.
1. TRAINING METHODOLOGY
Nothing kills learning faster than training that is repetitive and predictable. That is why it is important for materials to have a variety of activities designed for different types of learners, and that allow opportunities for individual, peer, and group work.
Take the following two activities as an example:
Example 1: Trainer-centered activity
Quiz – The trainer runs a short quiz to test the class.
Lecture – The trainer reads information in the Power Point presentation.
Discussion – The trainer discusses the lecture and asks questions to the trainees.
Role Play – The trainer selects 1 person to complete a short role play and gives feedback to the class.
Example 2: Learner-centered activity
Pre-listening activity – The class works in group to brainstorm how to handle difficult scenarios.
Listening activity – The class listens to a series of calls and evaluates strengths and weaknesses.
Role Play activity – In pairs, the trainees complete a short role play applying what they have learned.
Reflection activity – The class watches videos and in groups discuss how to handle customer interactions.
Example 1 is an activity that is quite common in corporate training. It is largely trainer-led and the activities do not cater at all to different learning styles. As a result, there's very little opportunity for trainees to discuss and learn from each other, making the training less engaging and relevant.
On the other hand, Example 2 caters to different learning styles and encourages trainees to engage with peers in different groupings. This makes training more dynamic – sweeping the spotlight away from the trainer to the trainees.
With a learner-centered approach, the trainer can easily adapt and make changes real-time, making learning more effective and beneficial. This approach also gives the trainees greater opportunity to use a higher level of cognitive skills through adequate and appropriate level of trainer eliciation and feedback.
2. COURSE STRUCTURE
Have a look at your course plan and answer the following questions:
What are the different topics?
How do the topics support the overall course aims?
Why are the topics arranged in such a way?
And does the flow make sense?
If you cannot provide a clear answer to any of these questions, then this means that your course structure needs some work.
Quite often, problems arise when the course aims are missing or are not clearly written, and several topics appear to take place randomly.
To deliver an effective training program, your materials should always have a clear course aim written out. There should also be a strong rationale for selecting and sequencing topics. By presenting topics in a way that makes sense to the learners, you can heighten learning impact and encourage trainees to take more responsibility for their own learning.
3. OBJECTIVES AND OUTCOMES
The objectives and outcomes in your training materials should describe what the agents will learn or acquire from each session. They should also be specific, measurable, and clearly defined to:
Align them with course content.
Clearly communicate the course expectations to the learners.
Provide learners with a clear purpose.
Develop an organized and effective course flow and strategy.
Select or construct appropriate assessment tools for evaluating learning effectiveness.
Objectives and outcomes that are too broad, too many or too complex can be overwhelming for the trainees. Likewise, listing down objectives that the trainer will do (instead of what the trainees need to do) can result in a highly instructor-led training.
By collaborating with the trainees, you can determine how useful each section of the materials is and what activities you can include to allow them to demonstrate the targeted skills. You can also check if the objectives and outcomes are being met by giving trainees time to discuss and reflect on what they've learned.
By having clearly defined, achievable, and realistic course objectives, you can enhance learner engagement and drive in areas that affect performance.
4. CONTENT
Course content in an occupational setting should always be relevant and appropriate for the trainees' background, abilities and experience to ensure a positive impact on learning. It should also be aligned to the overall aims of the course and provide an adequate level of input-related practice.
Not sure how to select content for your course? Download this free 6 Step Checklist to an Effective Training Needs Analsyis.
In the context of the customer service industry, both academic and business results show that pronunciation and language have little impact on operational performance. Helping agents understand the expectations and communication styles of the callers during training will give them a better chance to handle customer interactions successfully.
You can read more about the top causes of communication breakdown by downloading Breaking the CSAT Ceiling White Paper.
CONCLUSION
By having a strong evaluation framework, you can easily review course materials and create changes based on your program's strengths and weaknesses. Training methodology, course structure, objectives and outcomes, and content – by keeping these 4 essential things in mind, you will be on your way to better understanding how effective your training program really is.
What do you think of this framework? What else are your issues when it comes to evaluating course materials? I'd love to hear any thoughts at all on this topic.
Download our free call center training evaluation form so that you can use to start assessing your training program.