Choosing the right communication screening tests can be a nerve-wracking decision for many recruitment managers. How do you make sure you are getting people with the right skills at the right level? How do you check that your recruiters are doing a fair job in the selection? And how do you ensure the whole process is efficient?
With so many assessment options out there, it can be difficult to decide which one is right for you. However, if you're working in the contact center industry, the BUPLAS Voice Assessment (VA) by Future Perfect may well fit your needs. In this post I'll give you an idea about what it is and what it does, so you can be sure to make the right decision for your organization.
What is the BUPLAS Voice Assessment (VA)?
The BUPLAS Voice Assessment (VA) is a 7- to 10-minute one-on-one interview with an assessor that assesses spoken communication skills. The interview can be done face-to-face or over the phone, and the assessment is made up of 3 parts:
reading a short passage
talking at length about a general topic for 1 to 2 minutes; and lastly
discussing the topic in more detail with the assessor.
What does it measure?
While many spoken language tests measure only pronunciation, vocabulary and grammar, the BUPLAS Voice Assessment (VA), in addition to the language domain, assesses the more critical areas of communication that have a major impact on customer interactions:
Discourse skills. The ability of the candidate to share and link ideas coherently, manage turn-taking and manage the conversation
Interactive skills. The ability to build rapport, manage emotions, and adapt to the other speaker
At the end of the assessment, the applicant receives four scores in total, one for each of the four communication domains: pronunciation, language, discourse, and interactive skills. They are rated on a scale of 0.5 to 5.0, where 1.0 is a very restricted speaker, 3.0 is a fair speaker, and 5.0 is an excellent one.
Why is it effective?
"Not only are we able to objectively select the best talents to improve customer experience, we're also able to maintain new hire performance and even improve them for most accounts." – General Manager, APAC
BUPLAS is informed by Canale & Swain's communicative competency framework, which outlines the four different sub-competencies that are essential in communication:
grammatical competence
sociolinguistic competence
discourse competence
strategic competence.
The theory has since been widely applied in the creation of language learning materials, but BUPLAS is the only assessment framework that has incorporated the concept as part of its standard measure in workplace communication testing.
Moreover, we have proven that all BUPLAS domains are correlated to KPI success. In our studies, we found out that high performing agents are consistently stronger across the board on all aspects of communication that are correlated to KPIs, namely: Language, Discourse, Interpersonal and Solution Strategy.
Download the [BUPLAS Recruitment Case Study] to find out how a global BPO service provider increased their hire by at least 17% with the help of the BUPLAS Screen Test and Voice Assessment.
Assessment principles
As an assessment tool, the VA is built to address all four assessment requirements as established by Bachman & Palmer's assessment theory. These requirements are:
Validity – the test must measure the skills that it needs to test
Reliability – the test must be designed and conducted for results to be consistent
Practicality – the test must be make the best use of resources – time, money, effort
Fairness – the test must be objective to all users
So how does the BUPLAS Voice Assessment address these principles?
Validity – it tests the actual skills needed by the applicants, in a realistic context, to perform their jobs.
Reliability – it makes use of very specific descriptors for scoring, and standard procedures for conducting the session.
Practicality – it can done face-to-face or remotely, takes only 7-10 mins, and operates on a license and not per user basis.
Fairness – the applicant is given a choice on the topic, and there are numerous sets of discussion topics and reading passages to avoid repetition
In addition, best practices in task design went into the creation of the follow-up questions that assessors ask applicants at the final stage. The questions are not random but well structured and becomes progressively difficult in order to "stretch" the person's language ability, ensuring that the scores truly reflect the candidate's competency level.
What comes with the BUPLAS Recruitment license?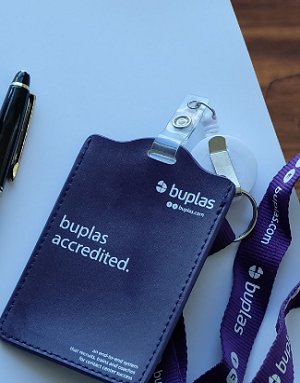 When you purchase a BUPLAS Recruitment license, a bundle of support services and tools will be set up for you so that you can run it in your organization:
Accreditation training
You will receive a 3-day accreditation training for your recruitment team to conduct and score the Voice Assessment according to standards.
Audit and BUPLAS Voice Assessment (VA) benchmarks
Future Perfect consultants will conduct an audit to help you set the proper BUPLAS Voice Assessment (VA) benchmarks for your accounts and advise you on how to integrate them to the recruitment process for maximum efficiency and results.
Montly calibration and observations
Your assessors will receive regular calibration sessions to support their development and ensure team alignment in scoring.
Your team will also get regular remote observations to ensure assessments are run consistently.
Access to other BUPLAS assessments
You will have access to other BUPLAS assessments such as the BUPLAS Online Screen Test and the BUPLAS Writing Assessment, which further supports your organization's recruitment effectiveness.
Data tracking with QUARTO Analytics
You will also benefit from having recruitment data tracking and analytics with the QUARTO Online System.
Don't want to do a license approach? You can alternatively outsource the assessment for a fee.
Conclusion
I hope this blog has gotten you started in understanding what the BUPLAS Voice Assessment (VA) is – what it measures, what makes it effective, and what you can expect to get when purchasing a license. For more information, schedule a demo-walk through with Future Perfect by clicking on the button below.