Next. Next. Next. It's the awful "I just want this to end so let's click next" experience that all professionals go through when completing a mandatory elearning module.
It's a question worth asking. If we have progressed so much in technology, then why not make elearning at least useful and pleasing?
The truth is, much of what we know about elearning has barely progressed. Fine, graphics might look better, and there are fancy animations and sounds. But really elearning is still a fairly boring text loaded onto a computer for easy distribution and monitoring.
The corporate environment is very often the worst culprit, with elearning used for compliance or mandatory training – a check-box approach to education – without really looking at impact or the application of the learning in people's jobs and day-to-day tasks.
So what does good elearning look like and can it ever take the place of classroom training, in particular communication training?
The answer, as always, is that it depends. In this blog post, I will explore the key issues in using elearning for communication training in a corporate environment.
WHY ELEARNING FAILS
One of the key issues why elearning intervention fails is that it is often used for information delivery and not application of information that helps people do their jobs better.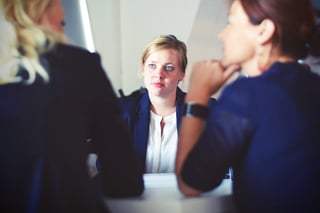 Take for example an elearning sales course. A typical elearning module would provide details of the different approaches to selling, how to talk about features and benefits, delivering rebuttals, closing the sale, and etc. Armed with this knowledge, the sales consultant heads out to meet potential clients but frequently return empty handed as they fail to close deals.
And why not?
All the sales consultant ever did was click through slides, randomly guess answers, and hope that no one was tracking how much time he spent completing the elearning sales course!
So what is a better alternative then?
A more effective approach would look at application of knowledge – using real world scenarios that allow employees to practice applying the knowledge they need to do the job.
In this case, a better approach would be to simulate a sales call where the consultant needs to choose the best response to a customer's objection, or choose the best product that fits the customer's needs. Whatever choice they make, the trainee then sees the consequences of that decision and then makes their next choice. In this way the trainee sees the impact of their choices and adjusts their strategy accordingly.
ELEARNING & COMMUNICATION SKILLS
One of the drawbacks in using elearning for communication training is that it doesn't provide feedback on productive skills i.e. speaking and writing. And that is why elearning can never replace classroom training.
Instead, what it can do is provide controlled practice through activities and simulations, as well as allow learners to evaluate calls and emails for appropriate language and communication. Doing this can go a long way in raising awareness of what 'good' looks like.
A more common and effective approach is to take a blended approach. In this way, elearning supports and supplements a classroom-based course. It helps the learner review key concepts, and practice using them in a job-related scenarios.
To make a well-designed elearning course, there also has to be a degree of personalization. This means that trainees are given the option to select the modules most relevant to them, catering to their individual needs but also acting as an on-demand resource when they are performing in their role.
In short, if training provides the foundation, elearning bridges the gap between the classroom and the job.
CONCLUSION
Delivering a memorable elearning experience isn't just about using fancy images, pretty animation, and catchy sound effects. Nor does it have to be rigid or a boring information dump.
While communication skills training using elarning has its drawbacks, it can certainly be made more effective by focusing on scenarios and application tasks. It can also be made more effective by blending it with classroom training and giving trainees the option to choose modules that make skils application much more relevant.
Do you have issues using elearning within your organization? Do you think in some cases elearning should be rolled out to supplement classroom training? I'd love to hear any thoughts at all on this topic. Or you can request for a FREE company evaluation and a team of experts from Future Perfect will audit your training process to help you bridge the gap in your internal performance goals.