There are many types of communication assessments available in the market today. A lot of these communication skills tests measure language proficiency and are commonly used internationally to test English language ability.
The only difference is that not all these language tests are suitable for assessing the skills needed for workplace communication.
In this blog, we will discuss BUPLAS, its advantages over other language assessments, and how it can help your company select and nurture employees with a high standard of communication skills.
BUPLAS is specifically designed for workplace communication
BUPLAS leverages human expertise with technology
BUPLAS is correlated to performance results and operational KPIs
BUPLAS is aligned with international standards
BUPLAS offers an end-to-end talent management solution
BUPLAS is designed for workplace communication
BUPLAS stands out from other assessments as it is specifically tailored for workplace communication rather than being a generic test for academic purposes.
The key reason behind this distinction is that BUPLAS incorporates real-world tasks that demand genuine communicative abilities. By doing so, it is able to evaluate a comprehensive range of communication skills, going beyond mere proficiency and encompassing actual performance, which is crucial in the context of workplace communication.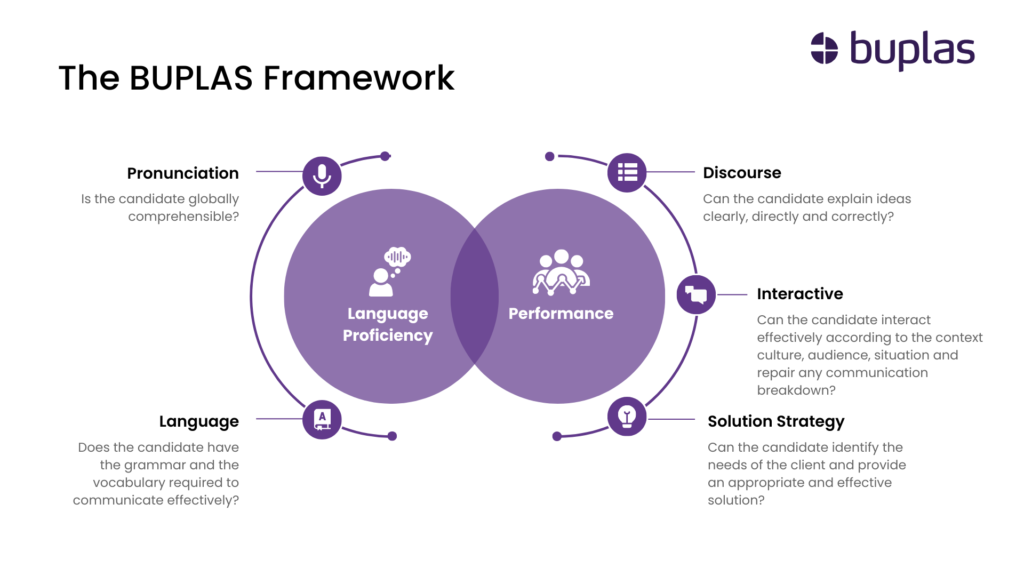 Simply put, proficiency is a person's ability to effectively communicate in a language, while performance is their actual level of communication skills when used in different contexts. Performance includes one's ability to engage in interactive communication, understand and respond appropriately to contextual cues, and employ effective strategies to resolve communication challenges.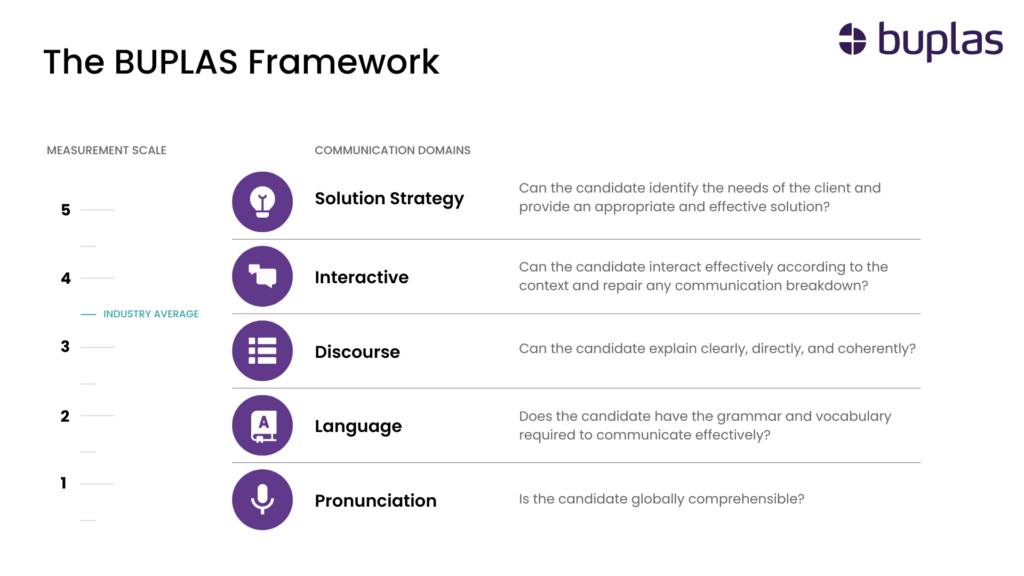 By evaluating candidates across these five domains, BUPLAS provides a holistic assessment of employees' communication skills. But more than that, all these domains are correlated to performance results and operational success.
Discourse is correlated with Average Handling Time [AHT]
Interactive is correlated with Net Promoter Score [NPS] and Customer Satisfaction [CSAT]
Solution Strategy is correlated with First Contact Resolution [FCR].

This makes it easier for organizations to make informed decisions in the recruitment, training, and development processes. Moreover, the test scenarios in BUPLAS can be customized to suit the client's specific industry and processes.

BUPLAS combines human expertise with technology
While technology and automation have their advantages in terms of efficiency and scalability, they have limitations when it comes to capturing the full range of human communication.

By involving human assessors, BUPLAS ensures that the assessment results are accurate, reliable, and reflect the complex nature of communication.
Human assessors can discern the subtleties of language use, including cultural nuances, rapport building, and the ability to manage emotions, which automated assessments can never measure. They can also provide valuable feedback and insights to candidates, offering personalized guidance for improvement.
This hybrid approach, leveraging the strengths of both human assessors and advanced technology, ensures that BUPLAS assessments provide accurate and reliable results.

BUPLAS is correlated to performance results and operational KPIs
Another key advantage of BUPLAS is its strong correlation with internationally recognized language proficiency standards like CEFR (Common European Framework of Reference for Languages) and IELTS (International English Language Testing System). This correlation provides a valuable benchmark for evaluating candidates' language skills.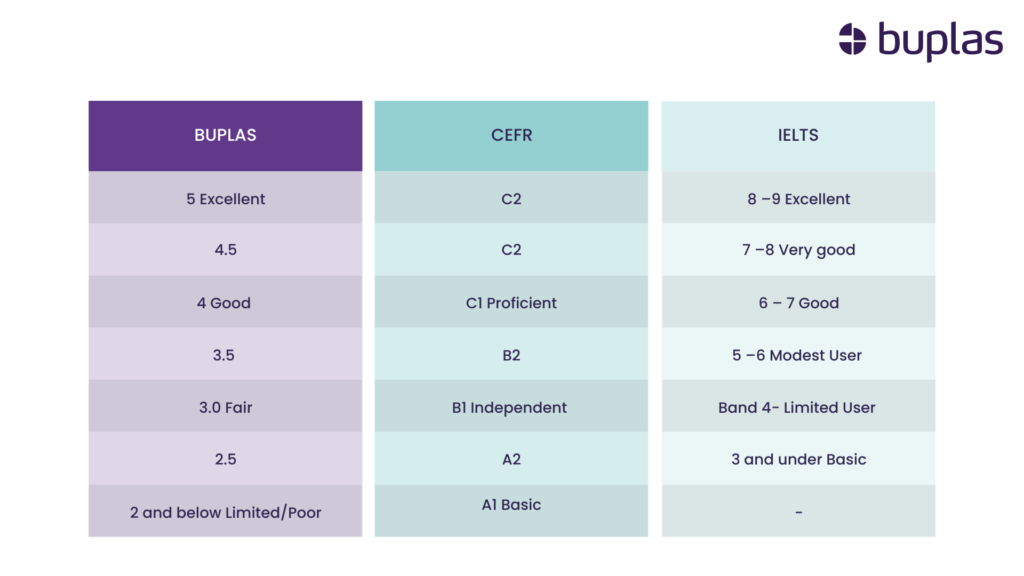 By aligning with CEFR and IELTS, BUPLAS ensures that its assessments are reliable and consistent with widely accepted language proficiency standards. This correlation allows organizations to have confidence in the accuracy and validity of BUPLAS results, making it a trustworthy tool for evaluating candidates' language abilities.

BUPLAS offers end-to-end talent management solution
Finally, BUPLAS sets itself apart from other language assessments because of its holistic approach that extends beyond recruitment.
While many assessments solely focus on evaluating candidates' communication skills for hiring purposes, BUPLAS offers an end-to-end solution that includes assessment, training, and coaching components. This is possible because BUPLAS uses a single framework across recruitment, training, and operations.
This comprehensive approach provides significant advantages for candidates, allowing them to enhance their communication skills and develop their potential over time.

In Summary:
When it comes to selecting the right communication assessment for your company, it's essential to choose one that measures communication skills, not just language proficiency.
BUPLAS is an excellent option because…
It is specifically designed for workplace communication
It leverages human expertise with technology
It is correlated to performance results and operational KPIs
It is aligned with international standards
It offers and end-to-end talent management solution

If you're considering assessing your employees or candidates' communication skills, BUPLAS is worth considering. Request a demo today to see our communication assessments in action and discover how our unique approach can transform your hiring process.